At Blaise, we want to ensure that all of our learners are confident and competent in using technology, and have the knowledge and skills to keep themselves safe from technology-related harm. Our aim is to develop an engaging approach to making sure we keep our children, their families and the wider school community safe in the digital world and enrich their cultural capital and experience. We take E-Safety very seriously. In September 2019, we joined the National Crime Agency - CEOP Education team list as a pilot school for primary-age materials.
Keeping children safe is everybody's responsibility. This includes all members of our school community; children, parents, carers and staff need to be aware of online safety rules and expectations.
Children at Blaise Primary and Nursery School use the internet on a regular basis as part of their learning. In school, we have regular 'online safety' activities to remind children of the importance of keeping themselves safe online. Staff have regular training and awareness of current online safety policy and practice.
Please click here to view our Online Safety Policy.
We take safeguarding extremely seriously and work with CEOP to provide our school community with online safeguarding. CEOP is a command of the National Crime Agency and is dedicated to tackling the sexual abuse and exploitation of children and young people. CEOP helps children and young people under the age of 18 who have been forced or manipulated into taking part, or are being pressured to take part, in sexual activity of any kind. This can be both online and offline. The CEOP Safety Centre offers information and advice for children and young people, parents and carers and professionals. You can visit the CEOP Safety Centre and make a report directly to CEOP by clicking the button below.

Online bullying or other online concerns should not be reported to CEOP. Children and young people should be directed to speak to an adult they trust, made aware of Childline if they would like to speak to someone about how they are feeling. For further resources look at our Anti Bullying Policy or get advice and support from Anti-Bullying Alliance.
To report and remove harmful online content, you should contact the UK Safer Internet Centre https://reportharmfulcontent.com/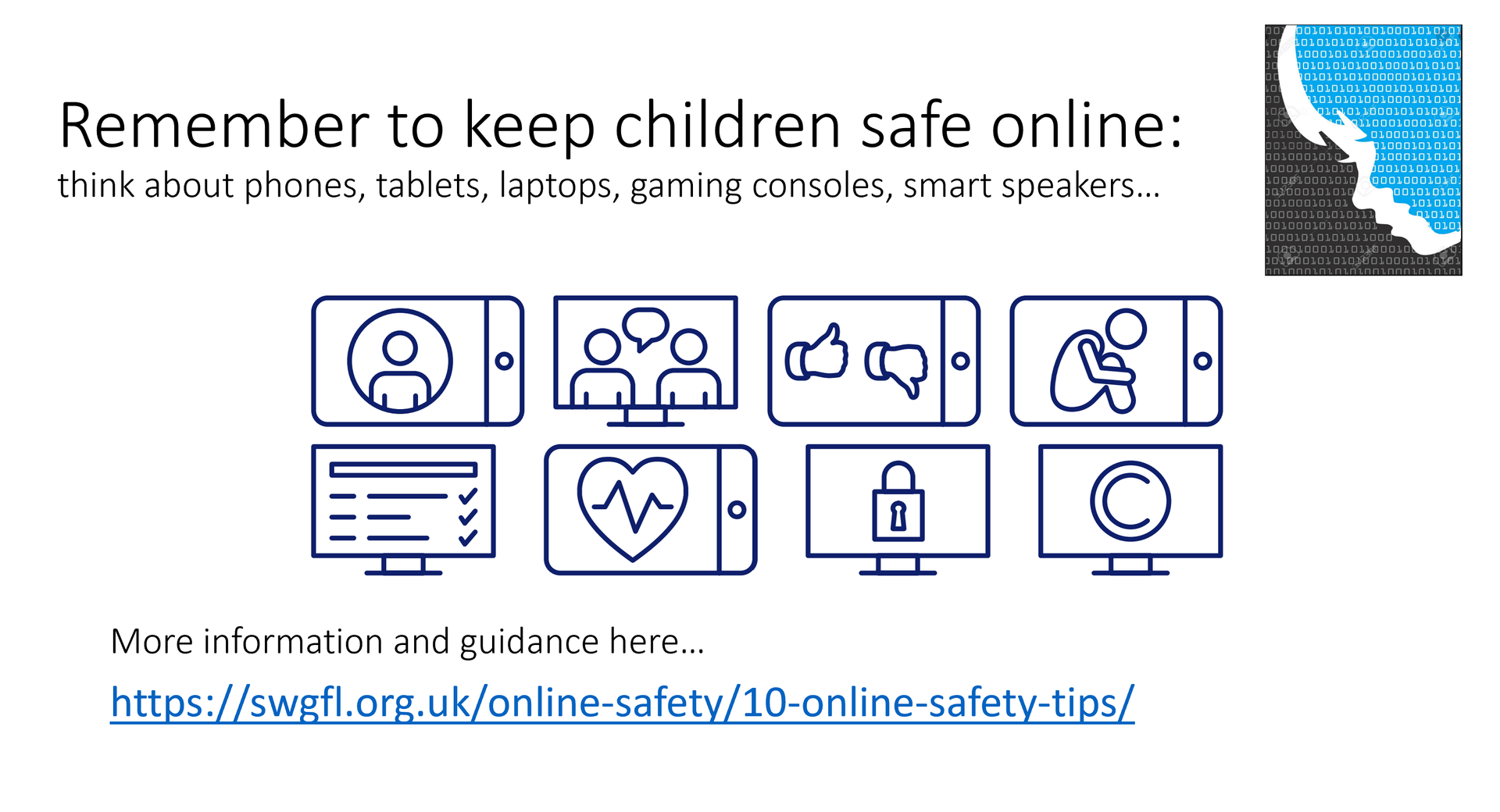 The most effective way to keep your children safe online is to have them access the internet in a busy area of the home where the screen is shared and easily seen. Please think about the importance of a safe online environment and we encourage parents and carers to set age-appropriate parental controls on digital devices and use internet filters to block malicious websites. These are usually free, but often need to be turned on. See UK Safer Internet Centre and Internet matters for support in this, or contact your internet service provider.
Please use the links below for information regarding Online Safety for parents and carers to read in order to help protect your children online in our digital world. Please click the links or copy and paste the web addresses into your search engine.

Thinkuknow advice from the National Crime Agency to stay safe online
Internet matters for support for parents and carers to keep their children safe online
https://www.internetmatters.org
UK Safer Internet Centre advice for parents and carers
https://www.saferinternet.org.uk/advice-centre/parents-and-carers
The NSPCC for guidance for parents and carers on how to talk to children about online safety and also how to set up parental controls.
London Grid For Learning for support for parents and carer to keep their children safe online
https://www.lgfl.net/online-safety/default.aspx
Let's Talk About It has advice for parents and carers to keep children safe from online radicalisation
https://www.ltai.info/staying-safe-online/
Resources for educators
Department for Education advice here.
Professionals Online Safety Helpline for support regarding immediate concerns about online safeguarding and of both children and professionals.
Call 0344 381 4772 or email helpline@saferinternet.org.uk. The helpline is open from Monday to Friday from 10am to 4pm.
Educate Against Hate for UK Government advice and trusted resources on safeguarding from radicalisation, building resilience to extremism, and promoting shared values.