Year 2 - Ms Thorn (2T), Mrs McLay (2M) and Mrs Hales (2M)
Welcome to the Year 2 home learning page.
It saddens us that we are not able to see each other every day for a little while. However, there will be plenty of tasks posted here to keep you busy until we all meet again.
Please check the page daily and complete each task set.
It is also important to read every day and practise the weekly spellings that will be uploaded each Monday, as well the year 1 and 2 common exception words.
If you are worried about running out of reading books, please click on this link https://www.oxfordowl.co.uk/for-home/ to take you to the Oxford Owl Website. They have many free e-books that are banded into our school reading colour levels.
Thank you and take care!
Ms Thorn, Mrs McLay and Mrs Hales
Missing doing learning on paper? No problem!
If you are looking for something where you can use a pencil rather than a keyboard, why not try one of these Spelling, punctuation and grammar (SPaG) or Maths activities? They even have answers to help the grown-ups in your house too!
SPaG 1 SPaG 2 SPaG 3 SPaG4 SPaG 5 SPaG6
(If you need paper copies, please contact the office)
Spread some Neighbourhood Cheer!
During the time when we are unable to meet up with our friends and all be together, we would like us all to take part in the national challenge to spread some neghbourhood joy! This challenge initially starts with
painting a picture of a rainbow and placing it in a window, so then when people are going for a walk they will be able to see your beautiful creations and smile at your work!! We have already been creating our
rainbows in class together, ready to take home with us.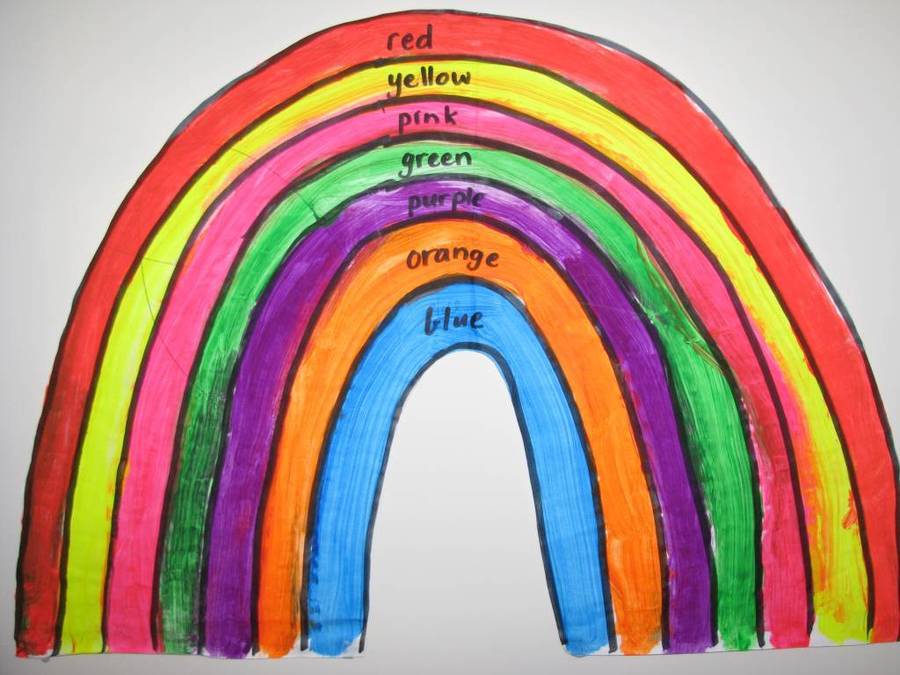 Ongoing Maths Learning
https://whiterosemaths.com/homelearning/year-2/
In class we were learning about fractions. The above link has 5 lessons on fractions. For each lesson there is a video clip to watch that explains the task and then an activity to complete. The activity can't be completed on screen but children could write their answers on paper and send a photo to the school office. The answers are also available next to each activity for parents reference.
This week's (30.3.20) spellings are...
Friday 3rd April
We have loved reading through your letters! Please feel free to send in any more - they have really brightened our time at home!
For today's learning we have a Spring Theme!
English
Look at the riddles below can you match the riddle to the picture?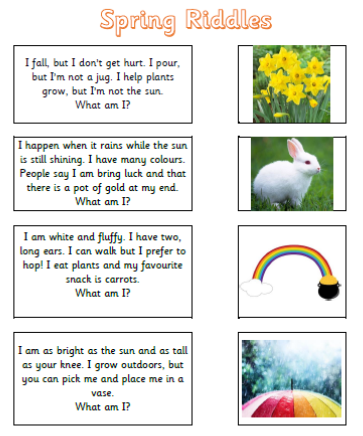 Then log onto Purple Mash to write your own for us to guess what Spring themed item you have chosen to write a riddle about!
Maths
Look out of your window or go into your garden. What Spring things can you spot? Create a pictogram to show your findings. Log onto Purple mash to create a 2Count pictogram. (Click on the pictures at the bottom of the pictogram to change the image - there are loads to choose from!)
Theme
Have a go at either of these Scavenger hunt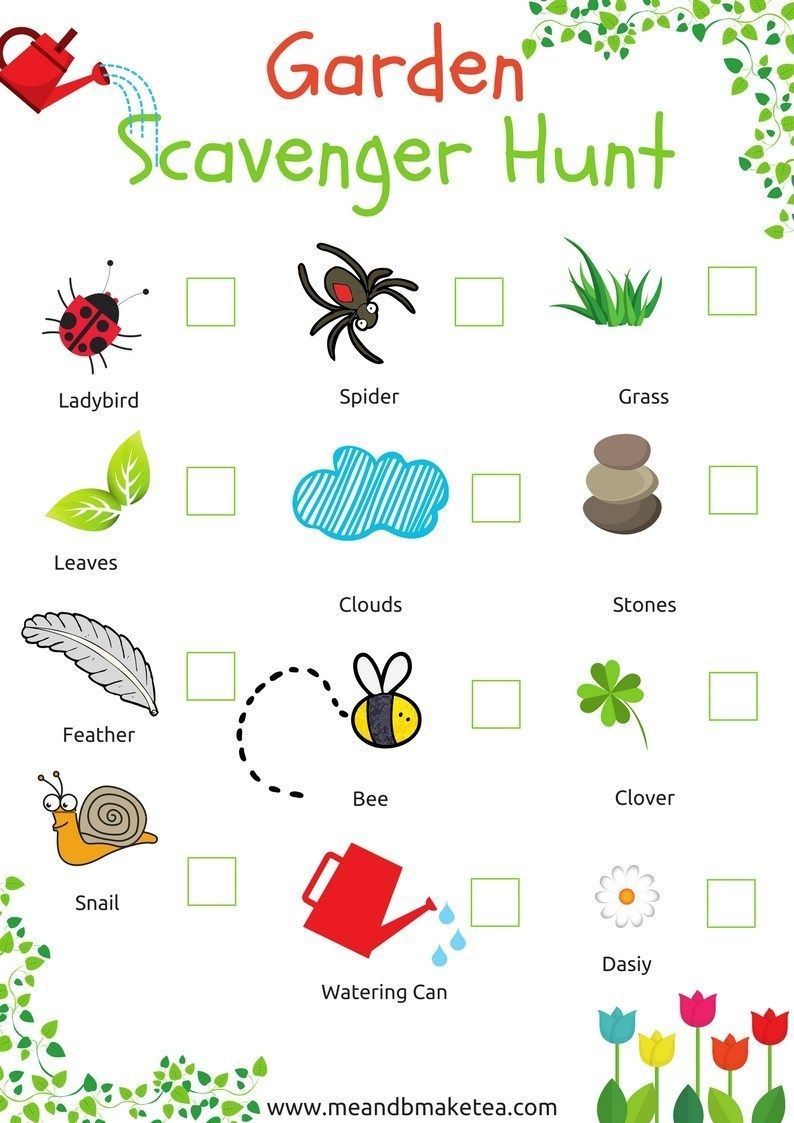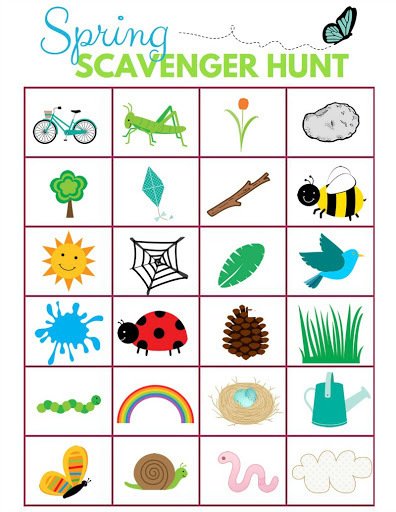 Thursday 2nd April
Well done to all of you that are regularly logging on to Purple Mash.
For today's English task we would like you to write us a letter as we would love to hear what you have been up to at home.
Please tell us how you are. We would like to know which home learning tasks you have enjoyed and why! If there is anything in particular you would like to learn about please let us know too. We really miss you all and hope that you are safe and well at home with your families.
There is a page set in your Purple Mash 2dos for you to type your letter into or if you prefer you can write it on paper and send us a photograph. You can either send the photo to the school office or you can upload it to the purple mash page by clicking on the green arrow in the picture space.
We can't wait to read your letters!
Maths
We have loved seeing all your amazing pictures of the measuring activities this week. Thank you so much for the great learning!
For today there is a fun fish themed arithmetic game to play on Purple Mash. There are 4 different levels to this game, you can choose the best level for you, try a couple of different games!
Science
For Science today there is a fun quiz for you to try. See what you can remember from our learning about food-chains. Log on to Purple Mash to have a go at the quiz!
Wednesday 1st April
English
Watch this video (click here) about a herd of amazing diving giraffes. Then log into Purple Mash and write a newspaper report about them. You will find the newspaper frame in your list of 2dos.
Choose a catchy headline, describe the event and then add illustrations to your report.
We look forward to reading them!
Maths
You will need a piece of A4 paper and an adult to help you with today's maths activity.
Stand straight against the wall, and then ask an adult to mark your height. Then see how many sheets of A4 paper is the same as your height.
Alternatively, lie down on the floor with your feet against a wall or sofa. Then get an adult to place an object at the top of your head. Then see how many sheets of A4 paper is the same as your height.
What other objects could you use to measure your height?
Log onto Purple Mash to write down what you found out. You can even add your own photo by clicking on the green arrow in the activity.
Theme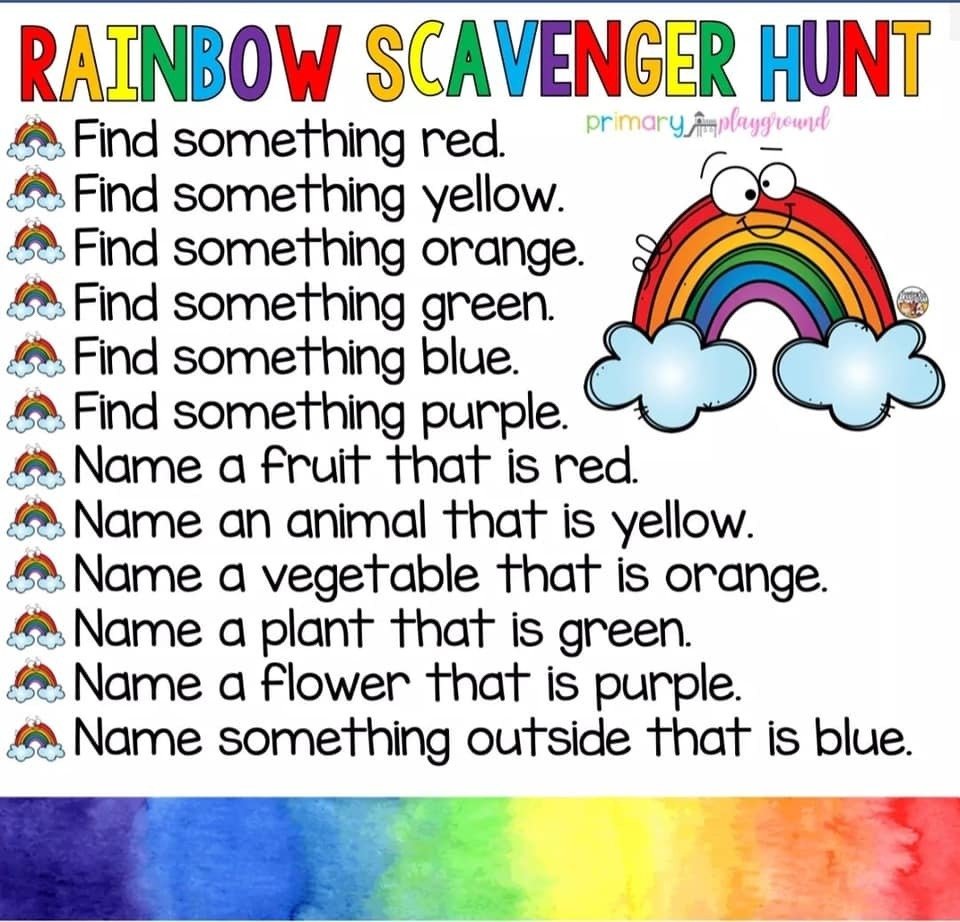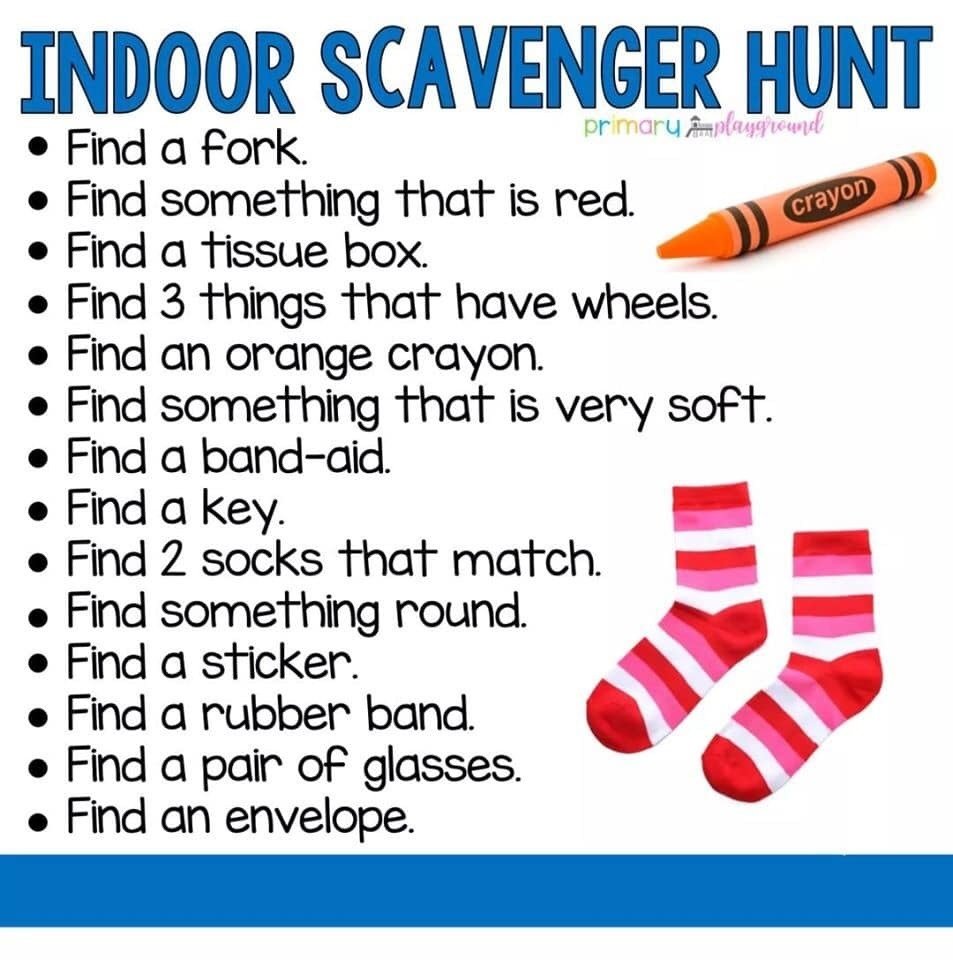 Try either of these scavenger hunts. See if you can gather all of the items.
Email a picture to: school@blaiseprimaryandnursery.co.uk
Tuesday 31st March
Reading comprehension
Read the text 'Diary of a Mermaid' (above) and answer the 4 questions. There is a blank page set on your Purple Mash 2dos where your answers can be typed.
Log into Purple Mash and complete 'Jim takes out the rubbish'. This task requires you to add the correct punctuation to the sentences (full stops, capital letters, question or exclamation marks)
Maths
We are now moving on to measuring! Try this practical activity at home.
Find an A4 piece of paper (scrap is fine). Hold it 'portrait' - this will be your 'ruler' for today.

Find 10 items in your home which are longer than your piece of paper.

Now find 10 items which are shorter.

Fold your paper in half - are there any items about this length (half a piece of A4)?

If you fold your paper in half again to make quarters, are there any items about this length?
Photograph your findings and email us with them please! school@blaiseprimaryandnursery.co.uk
Monday 30th March
English
Using a piece of paper, how many words can you make from a combination of these letters:
e h t a s l p o d n m r
For example: tap, drop, hat
Challenge: write some the words you made into sentences. Remember to use finger spaces and accurate punctuation. Don't drop your hat on the wet floor.
Maths - more fractions! We could see some of you found this quite tricky so try this game to refresh your understanding: https://uk.ixl.com/math/year-2/simple-fractions-which-shape-matches-the-fraction
Science - Living/Non-Living/Never Lived
Use Purple Mash to sort pictures into living (things that are alive), non-living (things that were once alive but are now dead) or things that have never lived.
Friday 27th March
Maths - log onto purple mash to complete the addition and subtraction task. How quickly can you work out each answer?
PSHE - I'm sure many of us are missing our friends at the moment...I know I am! It would be fantastic to hear what your friends have been up to this week and stay in touch with them.
Your task today is to send a friend an email. You can do this through purple mash. However, first you MUST complete the Email Safety Quiz with your parents or carers. This is set in your 2do folder. Once complete search for '2Email'. Choose a friend from the address book and type them a message.
Thursday 26th March
PE - Set someone an exercise program and complete it with them. For example: 10 star jumps, run on the spot, touch the floor the jump high 10 times etc. Or alternatively, log onto Joe Wicks live workout at 9am via youtube.
English - write some sentences to describe this picture. Remember to include a range of sentence types and some adjectives and adverbs. Focus on your use of punctuation.
Wednesday 25th March
Science - to explore microhabitats
A microhabitat is a place where small creatures live. For example, under a log/rock, in the flower bed, under a pile of leaves. If you have access to some outdoor space at or near home, go and explore some microhabitats. There is a page set in purple mash for you to record your findings. Happy hunting!
Maths - use your fraction knowledge to create some delicious pizzas!
Grammar - Complete this purple mash activity about plurals (more than one).
Monday 23rd March
Click on the PINK text to go to today's tasks:
English – As it has just been Mother's Day, draw a picture of someone you care about and write a couple of sentences describing that person.
Maths – Try creating a symmetrical butterfly. Try using a range of colours, shapes and brush sizes to make a colour design.
Get Active – Log onto 'Cosmic Yoga' for a fun, active dance!
Challenge – Take a photo of you reading a story somewhere at home (your room, a den, the garden, on the sofa etc) Email a photo to school@blaiseprimaryandnursery.co.uk
Friday 20th March
Click on the ORANGE text to go to Friday's tasks
Maths - Have fun playing this number bonds game.
English - Suffixes that can be added to verbs where no change is needed in the spelling of root words.
Theme - Can you remember the names of all 7 continents?
In class today, we have shared an information story about Coronavirus. We have talked about our concerns and asked questions. We have reminded ourselves that if we are feeling anxious or upset the best thing to do is talk to someone that we trust about our feelings and this can help us to feel better.
We have also talked about ways to relax and calm ourselves down when we need to. For example, listening to calm music, sitting in a dimly lit room and focusing on our breathing.
If you are at home today, please share this story and discuss your feelings with your family.